IF YOU'RE A STUDENT INTERESTED IN IMPROVING THE AGRICULUTURAL INDUSTRY, APPLY FOR ONE OF THE FOLLOWING SCHOLARSHIPS:
Colvin Production Agriculture Scholarship: career goal to go into production agriculture (working on a farm, ranch or feedyard).
Colvin Undergraduate Scholarship: career goal to work in meat science, agricultural marketing or communications, agribusiness, other allied industry or continued education.
Colvin Graduate Scholarship: career goal in industry research and higher education.
Top scholarship award for each category to include $7,500, with additional scholarships awarded (see list of winners below for monetary examples).
---
2022 Twenty Students Earn Colvin Scholarships
Certified Angus Beef ®awarded scholarships to students pursuing careers in the agricultural industry.
"These students are the future of the beef industry," says John Stika, president of Certified Angus Beef.
2022 Undergraduate Colvin Scholarship Winners:
Cutter Pohlman
Texas Tech University
Amount: $7,500
Kevin Jess
Cornell University
Amount: $5,000
Eva Hinrichsen
Oklahoma State University
Amount: $4,000
Alexandria Cozzitorto
Texas A&M University
Amount: $3,000
Ellie Kidwell
Kansas State University
Amount: $2,000
Jake Bagby
Texas Tech University
Amount: $2,000
Lauren Frink
Colorado State University
Amount: $2,000
Eric Schafer
Butler Community College
Amount: $2,000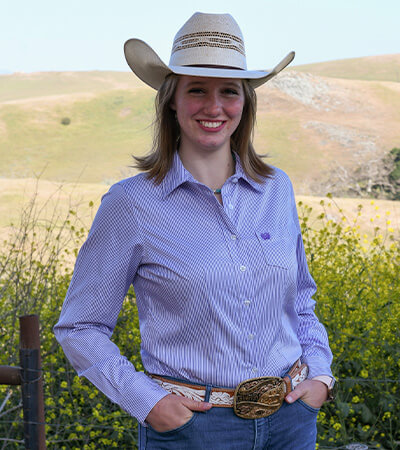 Claire Stevenson
California Polytechnic State University
Amount: $2,000
Sheridan Wilson
University of Nebraska
Amount: $2,000
2022 Graduate Colvin Scholarship Winners:
Forest Francis
South Dakota State University
Amount: $7500
Kaylee Greiner
Texas A&M University
Amount: $5,000
Mesa Kutz
Colorado State University
Amount: $4,000
Conner McKinzie
Texas Tech University
Amount: $3,000
Cesar Sepulveda
Texas Tech University
Amount: $2,000
2022 Production Agriculture Colvin Scholarship Winners:
Owen Gustafson
Dickinson State University
Amount: $7,500
Jace Stagemeyer
Butler Community College
Amount: $3,500
Teigen Hadrick
South Dakota State University
Amount: $2,500
Blake Bruns
Northeastern Junior College
Amount: $2,000
Amber Staab
University of Nebraska - Lincoln
Amount: $1,500
---